Component Video Cables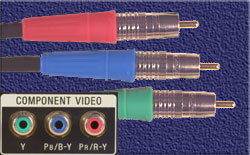 Of the three major analog consumer video signal formats, (composite, s-video, and component video), component video is the best. Component video can be run at any resolution, unlike composite and s-video which are 480i formats, and, as a result of having the color signal split three ways (luminance and two color-difference signals), provides the best color rendition. All of our component video cables are built using broadcast-quality raw cable, terminated with true broadcast-quality connectors, for the best component video cable performance available anywhere; and when we say "broadcast quality," we mean that literally. The Belden cables we use for component video applications are the exact same cables used by professionals daily in the vast majority of broadcast and production facilities, to carry high-bandwidth signals over great distances in critical applications. We offer these component video cables in a wide variety of lengths, and will cut to custom lengths also--just e-mail us for a custom quote. If you're looking for a component video cable to run from a 15-pin VGA plug to three RCA or BNC plugs, visit our VGA to Component Video page.
Component Video Cables: Belden 1694A or 1505F
Our Belden 1694A or 1505F component video cables are delivered as three separate cables of equal length; this is preferable when routing cable through walls, and makes for a more flexible assembly than the same cable in a pre-bundled form. 1694A offers extremely low-loss performance and is ideal for long runs, while 1505F offers the highest performance available in a high-flex cable anywhere, with a softer jacket, smaller profile, compacted stranded center conductor, and double copper braid shield. 1505F is sweep-tested out to 4.5 GHz, still well beyond the requirements of analog component video, but doesn't have quite the tight impedance tolerance of the solid-core cables like 1694A. View the technical specs for Belden 1505F or for Belden 1694A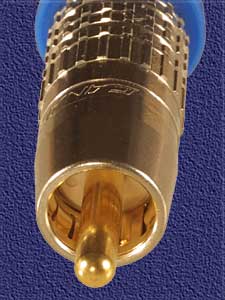 The Connectors: Canare RCA Plugs
Broadcast-quality cable, of course, won't do its best work if it's not well-joined to quality connectors. Canare's RCAP series RCA plugs represent the best in broadcast-quality terminations for component video cables (Need BNCs instead? See below). The Canare plug body is all metal, coupled with a silicone strain relief boot, and provides superb electrical contact, shielding and impedance performance. Unlike traditional RCA plugs, which were designed originally for analog unbalanced audio (they're called "RCA Phono" plugs because RCA developed them to allow people to plug a phonograph into a radio), the Canare plugs were designed with video in mind. To minimize impedance mismatch resulting from the RCA connector's unfortunate dimensions, Canare has carried the cable's coaxial geometry as close to the end of the RCA plug as the design will allow, and has preserved the cable's critical dimensions--the relationship between the center conductor and the shield--as much as possible, so that the inevitable impedance "bump" at the RCA interface is kept to a minimum. For that reason, these plugs aren't one-size-fits-all; for every component video cable we build, there is a specific model of Canare RCA which fits that particular component video cable. The contact surfaces are gold-plated--but where most connectors use no other means besides gold plating to ensure good contact, Canare RCAPs have a unique "internal pressure contact finger" system, partially visible in the photo at right. Nine gold-plated spring surfaces squeeze the jack from all sides--firmly, but without excessive force--for a perfect, mechanically solid and electrically sound contact every time. A simple side-by-side comparison of these plugs with those found on the mass-market cable brands leaves no doubt as to which is the superior connector. View Canare's description and specs for the RCAP plugs.
These cables are all individually cut, terminated and tested in our shop in Seattle, using precision computer-controlled stripping equipment and Canare dies mounted in pneumatic presses for the best possible manufacturing process control. Blue Jeans Cable is the only consumer audio/video cable assembler designated by Belden as a Certified Assembler of its video cable products. These are top-performing, videophile-grade cables, but at a cost lower than many lesser cables go for in the big chain stores. As with all of our products, we offer a simple and easy return policy. If for any reason you're not completely satisfied, just return the cables, undamaged, within 30 days and we'll refund your purchase price in full.
Other Alternatives:
In addition to our standard Belden 1694A or 1505F configurations, we can supply the following options:
Different Coaxes:
We can supply component video cables in any of a number of different coaxial cable types, each matched with an appropriately-sized Canare RCAP plug. For a complete list, click here to see all the coaxes we currently offer.
Canare BNC Connectors:
Canare BNC plugs--true 75 ohm plugs of the highest quality--are available on all of the cables above, and of course we can put BNCs on both ends of the cable or BNCs at one end and RCAs at the other. On our pricing/order page, just be sure to select BNC/BNC or RCA/BNC when adding the cable to your shopping cart. View Canare's description and specs for these BNC plugs.
Techflex Braided Cable Jacket:
Our component video cables are delivered as three separate cables of identical length, with color-coded boots. If you prefer cables which are grouped together in a common jacket, we also offer Techflex, a black plastic braided covering similar to a "finger trap," on component video cables up to twelve feet long. Techflex adds one dollar per foot to the cost of any cable assembly above. Note: Techflex does not provide any performance advantage; it's purely a convenience/appearance add-on.
To Order:
Just enter the length of cable you need below in the appropriate form, and select any applicable options; hit "calculate" and the price will appear at the right. Click "Add to Cart" to purchase. If you'd like to view a list of prices of the various cable options at various sample lengths, see our Component Video Cable Price Table.