HDMI Cable
An HDMI cable consists primarily of a set of shielded twisted pairs which carry video data, together with embedded audio, at extremely high bitrates. Its arrival created a few problems -- while it's heavily preferred by content-providers due to its support for digital copy protection schemes, it is not nearly as robust over distance runs as its analog predecessors, e.g., component video, were. It was created to run on balanced lines, in contrast to the professional digital video standard, SDI, which runs on coax, and this early design decision has made increasing the bandwidth of HDMI cable a difficult problem. On the plus side, in the great majority of simple installations, HDMI works trouble-free, and its "one-cable" approach to home theater interconnection has simplified the process of setting up most equipment racks.
New Series-4 UHD UHS Certified HDMI Cables: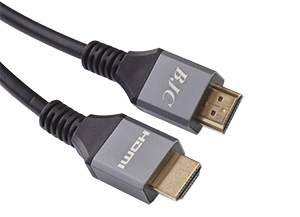 Our highest-speed certification cable is now our Series-4 UHD HDMI cable, available in 1-meter, 2-meter and 3-meter lengths. This cable is manufactured for us in Indonesia by Elka International, a manufacturing partner with whom we have worked for over a decade on a variety of HDMI cable products including our Series-FE and 1E cables, below. It bears the full UHS certification and carries the holographic certification label which can be scanned for spec verification. This will support any signal type, all the way through the current maximum bandwidth of 48.0 Gpbs (alternatively stated as 12 Gbps/pair).
BJC Belden Bonded-Pair HDMI Cable:
HDMI is a fragile interface, not least because of the difficulties of manufacturing twisted-pair HDMI cable to the fine tolerances required to handle the extraordinary bandwidth requirements of the HDMI signal. To overcome those difficulties, we sought the help of Belden, the world's technology leader in communications cable products, and we asked Belden to use its patented, exclusive Bonded-Pair technology to build us an HDMI cable with extraordinary impedance stability and low skew. The result is a pair of products: the BJC Series-1E 23.5 AWG HDMI Cable, and the BJC Series-FE 28 AWG HDMI Cable. These are the only HDMI cables on the market incorporating bonded-pair technology; they are also the only HDMI cable stocks (with a couple of odd, and rare, exceptions) made here in the United States -- in Richmond, Indiana. While economic and practical constraints have required us to have connectorization and final assembly done in China, both the Series-1E HDMI cable and the Series-FE HDMI cable are, on a cost basis, well over 50% average U.S.-manufactured content. The Series-FE cable is "Premium" certified for full support of all signals up to 18 Gbps total bandwidth (the limit in spec version 2.0), in lengths up ot 15 feet, and we have found in practice that it frequently works in Ultra-High-Speed applications as well (most frequently at the shorter lengths), though it is not certified as a UHS cable.
BJC Belden Series-FE HDMI Cable: a Triumph Over the Limits of Wire Gage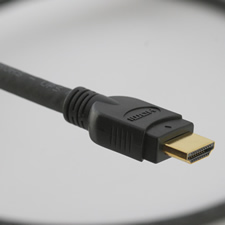 The Series FE brings Belden's bonded-pair technology, with its low skew and tight impedance control, to HDMI, significantly outperforming conventional twisted-pair designs. These cables, though made in 28 AWG and therefore quite thin and flexible, are certified under Category 2 ("high-speed") to 15 feet, considerably longer than any other 28 AWG HDMI cable, and to 25 feet in Category 1. All of the lengths up to 15 feet also carry "Premium HDMI Cable" certification from actual testing at the full HDMI 2.0 bandwidth of 6.0 Gbps/pair, 18.0 Gbps total. While a larger HDMI cable of the same design (our Series-1, below) will outperform it in distance runs, when extreme distance is not required the Series-FE will provide identical performance to the much heavier, stiffer, larger-gage HDMI cable, without the difficulty of bending and fitting that the larger HDMI cable can present. The Series FE is rated CM for in-wall installation (higher than the typical CL2 or CL3). View our full spec sheet for this product.
BJC Belden Series-1E Bonded-Pair HDMI Cable: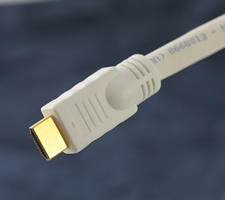 Our classic solution for performance over distance is our original Belden Series-1, a 23.5 AWG HDMI cable. For ordinary resolutions -- say, anything up to 1080p/60 -- this is our best cable performance-wise, and will typically handle those resolutions to fifty feet and beyond. For newer, higher resolution signals -- the sorts of 4K signals first supported by HDMI 2.0, running 18 Gbps, for example -- this cable will top out at somewhere around 20 to 25 feet, and we'd recommend going to the Series-3A instead. The Series-1 is quite thick and stiff, which is a drawback in terms of installation convenience, but is certified, at standard and high speed, to the longest distances of any conventional passive HDMI cable we know of--45 feet for Category 1 ("Standard" speed), 25 feet for Category 2 ("High speed". In actual usage, it ordinarily will work at distances far exceeding these--we have run 1080p video through a 125 foot Series-1 HDMI cable without any information loss, but results will vary depending on the capabilities of the sending and receiving circuits of the devices in use. Like the Series-FE, this HDMI cable uses Belden's patented bonded-pair technology and the cable stock is manufactured at Belden facilities in Kentucky and Indiana; foot for foot, it is the costliest HDMI cable stock in the world to manufacture, but we sell it at a price lower than many "premium" brands that lack the specs and the certifications that this HDMI cable holds. Read more details, or view specs, on our BJC Series-1 Bonded-Pair HDMI Cable.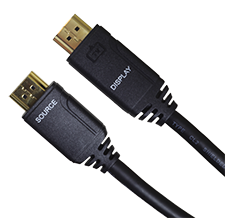 BJC Series-3A Active HDMI Cables:
For applications where the full 18.0 Gbps bandwidth is needed to run for 20 feet or more, we offer the BJC Series-3A Active HDMI Cable. These cables, made for us by Elka International in China, use a boost/EQ chip specifically designed for the maximum 18 Gig bandwidth permitted under HDMI 2.0, and are powered from the HDMI socket (so no need for an external adapter). The Series-3A cable is "directional" in that it is designed to take the signal from one end and amplify and EQ that signal at the other, so it's important to be sure to hook it up in the correct direction! These cables are CL2 rated for in-wall installation, and are certified "High Speed With Ethernet." See Instruction sheet for Series-3A HDMI Cables.
Tartan HDMI Cable: Our Economy Brand
Sometimes, the best value for the money is the best HDMI cable you can find; but sometimes, it's the least expensive HDMI cable you can find. For those more inclined to the latter than the former, we offer Tartan brand HDMI cables. These come in three types: tinned-copper 24 and 22 AWG, CL2 rated HDMI cables, and high-flex, tinned-copper 28 AWG HDMI cables (not CL2). All of the Tartan HDMI cables have gold-plated connectors. The cable stocks used in these products come from Copartner and LTK, both of which are leading Chinese manufacturers of HDMI cable (and the latter of which is a Belden subsidiary). Tartan HDMI cables are listed below; if you'd like more information on the Tartan line, see our Tartan HDMI Cables page.
DVI to HDMI Cables:
Some of the cables listed above are available in DVI/HDMI configuration as well as the standard HDMI/HDMI configuration. We have moved those cables to a new DVI to HDMI cable department on this site.
Return Policy:
As with all of our products, we offer a simple and easy return policy. If for any reason you're not completely satisfied, just return the cables, undamaged, within 30 days and we'll refund your purchase price in full.
BJC Series-4 UHD HDMI Cable:
UHS Certified
| Length | Price | | | Length | Price | |
| --- | --- | --- | --- | --- | --- | --- |
| 1 meter (3.28 foot) | 12.00 | | | 2 meter (6.56 foot) | 18.00 | |
| 3 meter (9.84 foot) | 22.00 | | | | | |
BJC Series-FE Belden Bonded-Pair HDMI Cable:
New Ethernet version of our 28 AWG High-Flex Bonded Pair design;
our favorite for runs up to 25 feet.
All lengths up to 15 feet are now Premium HDMI Cable certified.
Length
Price
Color
Length
Price
Color
1 foot
8 foot
2 foot
9 foot
3 foot
10 foot
4 foot
12 foot
5 foot
15 foot
6 foot
20 foot
7 foot
25 foot
BJC Series-3 Active HDMI Cable:
This is our new "active" cable with a boost/EQ chip built in,
suitable for all data rates up to 18.0 Gbps (the limit of HDMI 2.0)
| Length | Price | | | Length | Price | |
| --- | --- | --- | --- | --- | --- | --- |
| 20 foot | 39.75 | | | 35 foot | 53.25 | |
| 25 foot | 43.00 | | | 40 foot | 73.75 | |
| 30 foot | 49.50 | | | 50 foot | 85.00 | |
BJC Series-1 Belden Bonded-Pair HDMI Cable:
Lengths of 15 feet or longer have Ethernet
channel pair but have not been tested for Ethernet certification.
Length
Price
Color
Length
Price
Color
8 foot
45 foot
10 foot
50 foot
15 foot
60 foot
20 foot
70 foot
25 foot
80 foot
30 foot
90 foot
35 foot
100 foot
40 foot
Tartan Cable 24 AWG HDMI Cable:
(Chinese-made, 24 AWG Tinned Copper, CL2 rated)
All lengths 10 feet or longer are "with Ethernet" type.
Length
Original
Price
Sale
Price
Color
Length
Original
Price
Sale
Price
Color
4 foot
10.75
20 foot
21.00
5 foot
11.25
25 foot
24.25
6 foot
12.00
30 foot
27.50
7 foot
12.75
35 foot
30.75
9 foot
14.00
40 foot
34.00
10 foot
14.50
45 foot
37.25
15 foot
17.75
50 foot
40.50
Tartan Cable 28 AWG HDMI Cable:
(Chinese-made, 28 AWG Tinned Copper, our most flexible HDMI)
All black and white cables are "with Ethernet" type.
Length
Price
Color
Length
Price
Color
1 foot
7 foot
2 foot
8 foot
3 foot
9 foot
4 foot
10 foot
5 foot
12 foot
6 foot
15 foot
Tartan Cable 22 AWG HDMI Cable: Clearance sale priced
(Chinese-made, 22 AWG Tinned Copper, rather thick and inflexible)
Length
Regular
Price
Sale
Price
Color
Length
Regular
Price
Sale
Price
Color
25 foot
38.50
35 foot
50.75
30 foot
45.00
40 foot
56.25
HDMI Adapters:
Description
Price
Female DVI to Male HDMI Adapter
8.00
Female HDMI to Male DVI Adapter
8.00
Female HDMI to Female HDMI Coupler
8.00
HDMI Female to "Type C" (mini) HDMI Male Adapter
8.00
HDMI Right-Angle Adapter
(turning TOWARDS broadest side of socket)
8.00
HDMI Right-Angle Adapter
(turning AWAY FROM broadest side of socket)
8.00
Male Mini-Displayport to Female HDMI Adapter
10.00
BJC Series-F2 "Portsaver" (1 foot, male/female cable, white)
8.75
Other HDMI Hardware and Cables:
Description
Price
HDMI Booster/EQ Unit
(for extending distance; has female in, female out jacks, external power supply)
45.00
HDMI Wallplate--1 port, coupler style
(in-wall side is at right-angle to faceplate)
9.00
HDMI Wallplate--1 port, pigtail style
(in-wall portion is a short flexible cable w/female connector)
10.00
HDMI Wallplate--2 port, pigtail style
(in-wall portions are short flexible cables w/female connectors)
17.00
HDMI Type A (standard) to HDMI Type C (mini) cable, 6 foot
9.00
HDMI Switch, 5 in/1 out, w/power supply and remote, 1.3 compliant
25.00