SDI Cables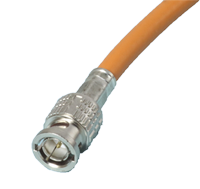 Serial Digital Interface video, whether at standard or high-definition resolutions, requires precisely-made coaxial cable with high impedance stability and low return loss. This was true in the days of 480-line standard-definition video, but it's become even more important as SDI data rates have increased to as high as 12G. Whether you need the full bandwidth for 12G, or something more conventional, we have cable to suit: Belden's best SDI cables, in a variety of sizes.
The Coax: for 12G, or for up to 6G
For excellent impedance stability and performance over long runs, there's nothing to match Belden's line of SDI cables. We carry these in a variety of traditional sizes, ranging from the mini-59 1855A through the RG-6 sized 1694A, and to this range we have recently added Belden's newest 12G cables -- 4855R, 4505R, 4694R, and 4794R. Apart from the jacket lettering, externally these cables look just like the 6G versions, but internally they've been re-engineered for 12G. This has meant going to silver-plated copper center conductors, for improved attenuation; bonded foil, for tighter control of impedance; and reconfigured shield braids to prevent the shield from creating return loss issues.
Which to use? Well, it depends. The 12G cables are costlier, especially in long runs, than their lower-bandwidth equivalents, and so the issue turns mostly upon whether you're using 12G now or expect to do so in the reasonably near future.
Cable Technical Specs:
The Connectors:
Our standard connector for conventional (up to 6G) SDI cables is the Canare crimp BNC (see picture above); on the 12G versions we use Belden BNCs, which in some cases will be the one-piece compression type (shown below) and in other cases may be the three-piece crimp type. We also offer Canare DIN 1.0/2.3 plugs as an option on the Belden 1505A, 4505R, 1855A, 4855R, and 1505F, White Sands right-angle DIN 1.0/2.3 plugs on the 1855A and 4855R, and Amphenol female BNCs on the 1855A and 4855R. The Canare DIN plugs are our favorite DINs because they have a spring-loaded retracting collar which makes it particularly easy to be sure that they're solidly engaged in the jack, but also makes it easy to remove them -- simply pulling on the outer shell of the connector retracts the collar, releasing the hold on the jack. The White Sands DIN plugs, with their right-angle configuration, are useful in situations -- as on some camera bodies -- where having the cable emerge straight out from the jack is inconvenient. The female BNC, of course, is convenient if you're coupling a short adapter cable to a longer SDI cable, as in many small camera setups.
| | |
| --- | --- |
| | |
| Straight DIN | Right Angle DIN |
| | |
| Female BNC | Belden BNC for 12G |
We measure, cut and terminate each of these cables in our shop in Seattle, using Canare tooling and the best electronic cable strippers and pneumatic presses, so we know they're done right and tested before they go out. We also offer a simple and easy return policy. If for any reason you're not completely satisfied, just return the cable, undamaged, within 30 days and we'll refund your purchase price in full.
To Order:
Just fill in your cable length in feet in the appropriate form below, select any applicable options, and the price will display to the right. To purchase, click "add to cart."