Premium HDMI Cables
The First Premium HDMI Cables for Sale in America -- only from Blue Jeans Cable
We are pleased to announce that multiple lengths of our Series-FE Cables have now been certified as "Premium HDMI Cables" through the HDMI Authorized Testing Centers, and are now available with the official, counterfeit-resistant Premium HDMI Cable labeling.
What's a Premium HDMI Cable?
The Premium HDMI Cable program, announced by HDMI Licensing in 2015, involves taking cable certification beyond the high speed/standard speed categories provided in HDMI 1.3 and 1.4, and passing a cable through additional testing at the full 18.0 Gbps bandwidth permissible under the HDMI 2.0 spec (almost double the bitrate under which conventional "high speed" cable testing tops out) to confirm that it will be able to handle the demanding requirements of high-framerate, enhanced color gamut, 4K video. For more details on the specification and why it was created, see: Premium HDMI Cables
Beware of imitations...

The term "Premium HDMI Cable" is being used incorrectly by a large number of cable vendors right now, so a note of caution is appropriate: a genuine ATC-certified Premium HDMI Cable will always come with a Premium HDMI Cable label bearing a hologram and a scannable QR code (an example of which is shown to the left); these labels can be validated on a smartphone using the free CheckIfReal app, which will not only authenticate the label but also identify the specific product to which it was attached.
Our Premium Cables: Series-FE Bonded-pair, American-made Cable Stock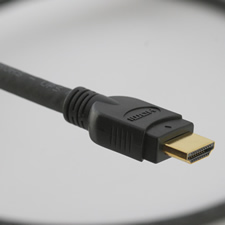 Our Premium HDMI Cables are all from our Series-FE line. Series-FE is a very different, distinctive HDMI cable; where practically all HDMI cable stocks are made in cable factories in China, our cable stock is made -- all the way from wire drawing through pair-bonding through shielding, cabling and jacketing -- by American workers in Belden factories in Monticello, Kentucky and Richmond, Indiana. We send this cable stock to a high-quality assembly plant in China for final cutting-to-length and assembly of connectors(operations that are so labor-intensive that we can't do them here in our Seattle assembly shop and keep the price within practical limits). Our cable is the only cable in the world to incorporate bonded-pair technology, in which the data pairs in the cable are bonded together rather than simply being twisted together; this technology is normally seen only in the highest-quality high-speed Ethernet cabling, and it results in superb performance -- low skew, high impedance consistency -- that really shows at the extreme high data rates which HDMI cables need to support under HDMI 2.0.
Supports...Well, Let's Keep It Simple: Supports Everything.
We get a lot of questions about which HDMI features, protocols, framerates, colorspaces, et cetera, et cetera, our cable will support. The answer, in the case of a Premium HDMI Cable, is simple: "everything." If any version of the HDMI spec allows it, this cable will handle it.
Return Policy:
As with all of our products, we offer a simple and easy return policy. If for any reason you're not completely satisfied, just return the cables, undamaged, within 30 days and we'll refund your purchase price in full.
BJC Series-FE Belden Bonded-Pair Premium HDMI Cable:
(Premium HDMI Cable With Ethernet; standard-speed 20 and 25 foot lengths are also available in our general HDMI cable department)
Length
Price
Color
Length
Price
Color
1 foot
7 foot
2 foot
8 foot
3 foot
9 foot
4 foot
10 foot
5 foot
12 foot
6 foot
15 foot