New: Free or Discounted 2-day Domestic Shipping:
We now offer free FedEx Second Day Air shipping (within the USA only) on essentially all orders of $100 or more. On orders less than $100 but over $25, 2-day shipping is just five dollars. No promo code required -- just go to checkout and select 2-day shipping. Note: normal turnaround times still apply, but we ship most orders within one business day, and practically all within two business days, of order placement. The only exception to the shipping policy above is orders containing over 50 pounds of speaker cable, which will still qualify for free shipping, but by FedEx Ground instead.
New Series-4 HDMI Cables
| | |
| --- | --- |
| Blue Jeans Cable now offers Ultra-High-Speed HDMI cables -- our Series 4, in 1, 2 and 3 meter lengths -- see our HDMI Cable Department for details. These cables are compliant with all standards, protocols, resolutions, framerates, audio formats, and what-have-you under HDMI specification version 2.1, supporting up to 48.0 Gbps total bandwidth (12 Gbps/channel, over four data channels). And, yes: that's true of any UHS-certified cable, but people do sometimes try to make this more confusing than it really is. | |
Certified Category 5e, 6 and 6a Cables
| | |
| --- | --- |
| | Here's something you won't find anywhere else: Ethernet patch cords for Cat 5e, 6 and 6a, with individual certification testing and a full-color test report printout on every cable. The great majority of Cat 6 and 6a Ethernet patch cords sold both in stores and online are non-compliant--our tests (see our article: Is Your Cat 6 a Dog?) show that very few of the cables which are sold and labeled as "Cat 6" comply with the specification, and many "Cat 6" cables don't even pass Cat 5e! We assemble our Ethernet patch cords in the USA using American-manufactured connectors and (in the case of 6 and 6a cables) American-manufactured, Belden bonded-pair cable stock, and we test every last assembly on a Fluke certification tester, so that you can be assured of really getting the performance that you've paid for. |
Ultrasonically-Welded Speaker Cables
Blue Jeans Cable is proud to offer a product available nowhere else: speaker cable with ultrasonically-welded terminations, for the highest pull strength and best electrical connection integrity available in any speaker cable, anywhere. Our West Chester, PA-built Sonobond Ultrasonic Welder allows us to fuse the copper speaker wire directly to the brass banana plug without the use of compression screws, setscrews, or solder--to read more about this new process, see our article: Ultrasonically-Welded Speaker Cable at BJC.
BJC Series-1 and Series-FE HDMI Cables: Different by Design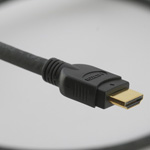 As a general rule, HDMI cables are nearly identical to one another in their internal structure. Blue Jeans Cable offers the only cables on the market with a fundamental structural difference: the BJC Series-1 and Series-FE Bonded-Pair HDMI cables. Unlike other "American" brands which are simply Chinese cable stocks rebranded with an American name, these HDMI cables are built from American-made custom cable stocks, unique to Blue Jeans Cable, and incorporating Belden's patented bonded-pair technology, which stabilizes pair spacing for tighter impedance control, lower return loss, better high-frequency performance and, ultimately, better reliability over distance. That reliability is attested both by our longer-than-the-competition HDMI testing certifications and by in-use experience; we have run 1080p video in the Series-1 cable 125 feet without information loss, with no booster or EQ unit required.
Shipping Options to US and abroad
Our online checkout will now support various shipping options in addition to our standard US Priority Mail shipping, including (for domestic customers) FedEx Ground, Second Day Air and Overnight. International customers can select, depending upon the country to which the order will ship, between methods including standard postal services (with duties and taxes paid by the customer on receipt) and a duties-and-taxes prepaid FedEx International Priority service.
Our HDMI Cable Information Center:
Questions about HDMI cables? Our HDMI Cable Information Center provides the most detailed information on the web on every aspect of HDMI cabling. We are not merely a reseller of HDMI cable--we are licensed as a full-fledged HDMI Adopter.
Follow @bluejeanscable