SDI Cables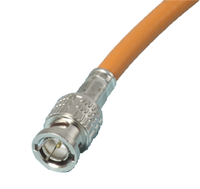 Serial Digital Interface video, whether at standard or high-definition resolutions, requires precisely-made coaxial cable with high impedance stability and low return loss. We offer SDI cables made using Belden's best 75 ohm video coaxes, in a variety of types and sizes, for the best performance at any run length.
The Coax:
For excellent impedance stability and performance over long runs, there's nothing to match Belden's line of SDI cables, all of which are 100% sweep-tested to 4.5 GHz to ensure performance at all SDI bitrates through 3 Gbps. We carry them in a variety of sizes, along with high-flex and plenum versions, and in as many as ten different colors. The most popular of these is Belden 1694A, an RG-6 sized cable with an 18 AWG solid copper center conductor and a 95% tinned copper braid laid over a two-sided foil shield. For plenum applications, we carry its plenum counterpart, 1695A. For high-flex situations where cable will be repeatedly flexed in use (e.g., patch panels, mobile camera cable) or needs to easily drape and/or lie flat, we recommend the high-flex Belden 1505F. And where run lengths are short and cable size is a concern, we also carry 1505A (RG-59 sized, otherwise similar to 1694A) and 1855A (mini-59 sized version of the same).
New: for 12G SDI
In addition to our conventional SDI cables, we are rolling out the new Belden 12G SDI cables as they become available. The first (and presently only) of these is Belden 4794R, a rather thick RG-7 sized cable with a solid 16 AWG silver-plated copper center conductor and a foil/braid/foil shield configuration. We terminate 4794R with Belden's 12G-capable "Brilliance" BNC connectors.
The Connectors:
Our standard connector for SDI cables is the Canare crimp BNC (shown above) on all cables other than 4794R, which uses the Belden Brilliance BNC connector. But we also offer Canare DIN 1.0/2.3 plugs as an option on the Belden 1505A, 1855A and 1505F, White Sands right-angle DIN 1.0/2.3 plugs on the 1855A, and Amphenol female BNCs on the 1855A. The Canare DIN plugs are our favorite DINs because they have a spring-loaded retracting collar which makes it particularly easy to be sure that they're solidly engaged in the jack, but also makes it easy to remove them -- simply pulling on the outer shell of the connector retracts the collar, releasing the hold on the jack. The White Sands DIN plugs, with their right-angle configuration, are useful in situations -- as on some camera bodies -- where having the cable emerge straight out from the jack is inconvenient. The female BNC, of course, is convenient if you're coupling a short adapter cable to a longer SDI cable, as in many small camera setups.
| | |
| --- | --- |
| | |
| Straight DIN | Right Angle DIN |
| | |
| Female BNC | Belden BNC for 4794R |
We measure, cut and terminate each of these cables in our shop in Seattle, using Canare tooling and the best electronic cable strippers and pneumatic presses, so we know they're done right and tested before they go out. We also offer a simple and easy return policy. If for any reason you're not completely satisfied, just return the cable, undamaged, within 30 days and we'll refund your purchase price in full.
To Order:
Just fill in your cable length in feet in the appropriate form below, select any applicable options, and the price will display to the right. To purchase, click "add to cart."