Subwoofer Cable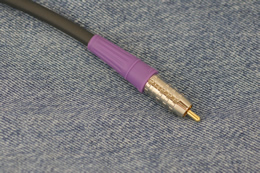 Subwoofer signals are pretty simple to carry well -- the most significant aspect of a sub cable is shielding, to keep extraneous low-frequency noise out. Our primary recommended sub cable is our own LC-1 low-capacitance audio cable -- but we have some other options, as shown below, as well as isolation transformers to deal with tricky hum issues and adapters to deal with feeding a single output into multiple inputs.
Blue Jeans Cable LC-1
LC-1 offers low capacitance, heavy double-braid shielding, and a high-flex jacket. We terminate it with our own Taversoe RCA plugs, designed specifically to fit this cable.
Belden 1505F:
Belden 1505F is, like LC-1, a double-braid shielded cable, but in a smaller profile. It was designed as an SDI video coax patch cable but does excellent work as a subwoofer cable. We terminate this cable with Canare RCA plugs.
Belden 1695A:
Belden 1695A is a plenum-rated cable, which means that it can be installed in a plenum (typically an air-return space in a commercial building).
Adapters and Transformers
Calrad Hardshell Y adapter,
1M/2F RCA
$2.50

One-foot Subwoofer Y cable,
1F/2M RCA
$10.00

One-foot Y cable,
1 Male/2 Female RCA
$10.00

Blue Jeans Cable
Isolation Transformer
$50.00