Speaker Cable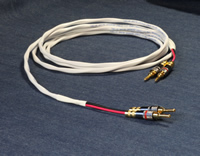 We offer speaker cable two ways: cut to length and terminated by us in our Seattle shop using our ultrasonic welding process, or in bulk, with or without connectors you can affix to the cable yourself. Our ultrasonic welder produces connections that are superbly mechanically stable and corrosion-resistant.
Cable stock choices:
Our principal offerings are two-conductor standard speaker cables, in gray or white jacket, 12 or 10 AWG. In addition to these, we offer Canare 4S11, a four-conductor "star quad" speaker cable, which is useful if you're bi-wiring.
Connector choices:
For terminated speaker cables, we offer our welded locking banana plugs and spades, as well as soldered fork terminals for those who need terminal-strip connection. For home termination, we offer a setscrew version of our locking banana as well as compression-style bananas and spades.
Raw Speaker Cable:
No terminations included
Type
Price
/ft
Color
Length
(in feet)
BJC Ten White
(White jacket, 10 AWG)
1.92
White
Belden 5T00UP
(Gray jacket, 10 AWG)
1.87
Gray
BJC Twelve White
(White jacket, 12 AWG)
1.18
White
Belden 5000UE
(Gray jacket, 12 AWG)
1.08
Gray
Canare 4S11
(Star Quad, 14 AWG)
1.90
Bananas and Spades:
Sold in pairs of one red, one black;
Buy two pairs if terminating both cable ends
Banana plugs,
compression-style
$4.00/pair

Spade Lugs
4.00/pair

Economy Banana Plugs
$2.50/pair

Locking Banana plugs
setscrew style
$7.25/pair

Terminated Speaker Cables:
Connectors on these cables (except Forks)are
Ultrasonically Welded; Pin Terminals are not shown
below but are available at this page.