SDI Cable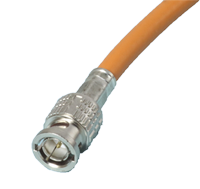 Serial Digital Interface video, whether at standard or high-definition resolutions, requires precisely-made coaxial cable with high impedance stability and low return loss. We offer SDI cables made using Belden's best 75 ohm video coaxes, in a variety of types and sizes, for the best performance at any run length.
Connectors:
Our standard connector for most SDI cable is the Canare 75 ohm BNC plug. However, we also offer Canare DIN 1.0/2.3 plugs on some cables, and White Sands right-angle DIN connectors or Amphenol female BNCs on Belden 1855A.
Belden 1694A:
Belden 1694A is one of Belden's most popular SDI cables, capable of considerable run lengths. We offer it in all ten colors, with Canare BNCs.
Belden 1505F:
Belden 1505F is a high-flex cable, excellent for situations where routing is tight, where the cable will be flexed while in use, or where the cable needs to lie flat without being taped down. It uses a double-braid shield configuration.
Belden 1695A:
Belden 1695A is the plenum-rated version of 1694A.
Belden 1505A:
Belden 1505A is the same design as 1694A, but in a smaller RG-59 sized configuration.
Belden 1855A:
Belden 1855A is the same cable design as 1694A and 1505A, but in an even smaller mini-59 size. It is particularly well-suited for use with DIN 1.0/2.3 connectors due to its narrow profile.