| | |
| --- | --- |
| | |
HDMI to DVI Cables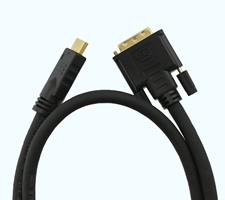 The HDMI standard and its older cousin, DVI, are very closely related to one another. Both use the same methods of video encoding, and send video information down the same sort of cable structure. The HDMI spec requires that HDMI devices be backward-compatible with the DVI standard, which in theory (though, unfortunately, not always in practice) means that whenever you have a device with a DVI connection on it, an HDMI to DVI cable will give you a funtioning connection.
As with all standard-compatibility questions, there are a few caveats.
First, HDMI is not compatible with DVI-A, the analog DVI format, so it is not possible to hook up, for example, a VGA monitor to an HDMI source by using a combination of VGA/DVI and DVI/HDMI adapters and cables.
Second, the DVI standard does not support embedded audio, so whenever you're interconnecting DVI and HDMI equipment, you'll need to make sure that you've provided a separate path for the flow of the audio.
Third, any "new" HDMI features--deep color, different colorspaces, et cetera--are unique to HDMI and will not be supported by a DVI connection (though the two devices should communicate just fine without them).
Fourth, although DVI has a "dual-link" version which is used to support higher resolutions, HDMI has no dual-link version available (yes, there's one in the spec, but there are no real-world devices that use it); accordingly, ALL DVI to HDMI cables are single-link only, even if the DVI plug on the cable carries the dual-link pins.
Fifth -- well, some DVI devices are just cranky and will not work properly when connected to some HDMI devices, largely because strict compliance with the DVI standard was not really carefully policed.
Tartan 24 AWG HDMI to DVI Cables
Our HDMI to DVI cables are made from 24 AWG HDMI cable stock; most are tin-plated copper conductors but a few lengths may be our older Blue Jeans Cable Series-2 stock which is a silver-plated copper. In any event, these have been reliable performers over the whole distance range reflected here, and longer.
As with all of our products, we offer a simple and easy return policy. If for any reason you're not completely satisfied, just return the cables, undamaged, within 30 days and we'll refund your purchase price in full.
Tartan Cable 24 AWG HDMI to DVI Cables:
(Chinese-made, 24 AWG Tinned Copper, CL2 rated)
NOTE: In some cases BJC Series-2 Cable--same terminations but silver-plated instead of tin-plated conductors--may be supplied instead.
Length
Price
Color
Length
Price
Color
5 foot
10 foot
9 foot
HDMI Adapters:
Description
Price
Female DVI to Male HDMI Adapter
8.00
Female HDMI to Male DVI Adapter
8.00
Female HDMI to Female HDMI Coupler
8.00
HDMI Female to "Type C" (mini) HDMI Male Adapter
8.00
HDMI Right-Angle Adapter
(turning TOWARDS broadest side of socket)
8.00
HDMI Right-Angle Adapter
(turning AWAY FROM broadest side of socket)
8.00
BJC Series-F2 "Portsaver" (1 foot, male/female cable)
8.75
Other HDMI Hardware and Cables:
Description
Price
HDMI Booster/EQ Unit
(for extending distance; has female in, female out jacks, external power supply)
45.00
HDMI Wallplate--1 port, coupler style
(in-wall side is at right-angle to faceplate)
9.00
HDMI Wallplate--1 port, pigtail style
(in-wall portion is a short flexible cable w/female connector)
10.00
HDMI Wallplate--2 port, pigtail style
(in-wall portions are short flexible cables w/female connectors)
17.00
HDMI Type A (standard) to HDMI Type C (mini) cable, 6 foot
9.00
HDMI Switch, 5 in/1 out, w/power supply and remote, 1.3 compliant
25.00