Stereo Audio Cables
Conventional RCA-RCA configurations: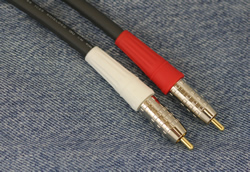 Our recommended cable for line-level unbalanced analog audio is our own LC-1 low-capacitance audio cable. This cable is particularly designed with line-level analog audio in mind -- it offers extremely low (12.2 pF/ft) capacitance for level frequency response, and heavy double copper braid shielding for maximum noise rejection at audio frequencies. We terminate it with our own Taversoe brand RCA connectors. This cable is listed in standard lengths, in black jacket, below; if you need a different length, white cable, or optional Techflex nylon bundling (or a different cable stock), click the "more options" link. If you need just a single cable, or you need a multichannel set, see our subwoofer cable or surround audio cable departments.
Miniature Audio Cable: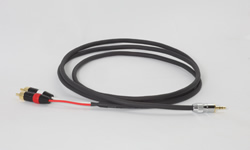 If you're looking for a stereo audio-to-mini 1/8" plug cable (typically used with an Ipod, other MP3 player, or any of a variety of portable devices), we recommend our MSA-1 cable, available in a variety of configurations below.