Headphone Cables
We've set this page off by itself because, well, headphone cables are weird. The diversity of connectors and pinouts means that while headphone cabling is often highly consistent within any particular manufacturer's headphone product line, there's no such thing as a generic headphone cable that fits all, or even most, of the equipment out there.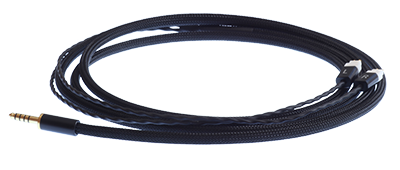 Cables for Two-Plug Headphones:
The most basic difference between headphones is whether they're fed with one connector on each "can" or whether they're fed at a single point, with internal wiring between the cans to distribute the left and right signals. For two-plug types, we use Canare L4E5C cable, and we have a variety of connectors to offer both at the amp end and at the headphone end, as detailed below.
Cables for One-Plug Headphones:
For cables which accept a single input plug on one side, things are a little simpler: we use Belden 1508A, normally used as a balanced audio cable, for its high flexibility. We offer this with a 3-pin mini female XLR on the headphone end, and a 1/8 or 1/4 inch TRS on the other.
Balanced Headphone Adapter
We also build a balanced headphone adapter for certain applications which call two TRS outputs to connect to a 4-pin XLR. If you don't know why you'd want one of these, you probably don't need one. But if you do, please note that there are two common ways to wire these and we need to know which you need. We've referenced these in the table below as the "Mytek" and "RME" pinouts, after two brands we commonly see. If you don't know which you need (or you need something else entirely), give us a shout to inquire.
Connectors, Connectors, Connectors
While there are a few headphone connectors we can't support at this time (e.g., the cylindrical connectors on Sennheiser 800 series, though these are coming soon!) we do use a variety of connectors which will accommodate the great majority of headphones. Here are some pictures of our common connectors. Note that the terminology "TS," "TRS," "TRRS" and the like refers, on a phone-plug type connector, to how many contact "rings" there are between the tip and the sleeve: a TS has none, a TRS has one, and so on. If you do not see the connector you need, let us know -- we frequently are able to handle special requests so long as we are able to locate appropriate connectors that will fit our cables.
| | | |
| --- | --- | --- |
| 1/4" TRS | 1/8" TS | 1/8" TRS |
| 1/8" TRRS | 4.4mm TRRRS | R/L two-prong |
| 4-pin male XLR | 3-pin mini female XLR | 4-pin mini female XLR |
If you can't figure out what combination is right, or you don't see what you're looking for, drop us a line: we build to order, we have a lot of access to a lot of different connectors, and we don't mind looking up a specification if we've got to figure out just what it is you need.
As with any product, we are happy to make these in any length you like, but in the tables below we've limited these to a few specific lengths which helps our production efficiency a bit. By all means drop us a note if you need a different length; longer lengths may need to shed the techflex, and nonstandard lengths are generally not returnable, but otherwise our pricing and availability ordinarily will be similar to standard lengths.
To Order:
Enter the length and any options you need in the appropriate form below, hit "calculate," and the price will appear at right. .