Multichannel Audio Cables --
all options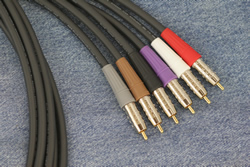 We offer our multichannel audio cables in any length and, depending upon cable stock, in a range of colors. Additionally, we offer an optional Techflex nylon braided cable wrap that bundles the cables in a set together, for cables up to 12 feet in length. To price any cable, simply enter your length in feet in the "length" field, select the appropriate options, and hit the "Calculate" button.
BJC LC-1:
LC-1 is Blue Jeans Cable's own proprietary design, with extreme low capacitance and heavy double-braid bare copper shielding. This is our recommended cable for the vast majority of applications, and comes terminated with our own Taversoe brand RCA connectors.
Belden 1505F:
1505F is a high-flex cable from Belden, designed for SDI video but very nice for audio, with low capacitance and a double-braid shield. It's smaller in profile than LC-1, and therefore a bit easier in tight routing situations or when cable flexibility has been reduced by bundling in Techflex. We terminate this cable with Canare RCA plugs.
Belden 1694A:
Belden 1694A is another quality SDI cable; it has a solid center conductor and less-flexible jacket material, so is about as flexible as ordinary RG-6 coax. We recommend it in situations where there is a known RFI problem, as its shielding (95% braid over double-faced foil) is highly effective against RF noise.